| | |
| --- | --- |
| | Blankets for Angels for Action Network |
Volunteers at Blanket Night on November 1, 2017!
Nancy Boss, Mary Czachowski, Carol Dunham, Carol Fricke, Jean Gogolin, Duncan Johnston, Gelind Johnston, Susie Jones, Jeanne Lamb, Kathy McElroy, Stacey Shepherd, Runi Sriwardena, and Erica Webber. Thank you from Gale Jacob & Diane Haag.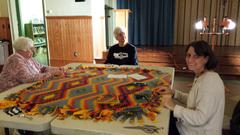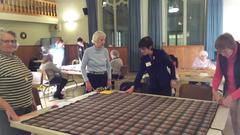 We made eight beautiful, warm blankets to donate to Angels for Action in Plainfield. To see what Angels for Action does, visit their website at www.angelsforaction.org.
See our photo gallery.